Rayna vom Banach was bred with Sequoyah's Gran Patron
"Laynie"
Dr. Thompson,
I hope all is well. I saw on the website that yall are doing a repeat breeding. I just wanted to let you know how "Laynie" is doing, and let ya'll I know that I think a repeat breeding is a great idea. She is an absolute sport model. I will have to attach some pictures, she has grown up very fast. She is extremely smart and athletic. She
absolutes looooooves the water. I am going to enter her in a dock jumping contest as soon as the season comes, she is unbelievable at jumping and swimming. I haven't worked any protection with her, but she has done very well on obedience. This a great dog from great bloodlines, thank you. J

"Ike"
Hey Sherle,
Absolutely you can give my address out. Nothing but good things to say about Icon and you guys.
Hated to miss training last week, but my schedule is so easily interrupted with everything we have going on. It is my goal to be at 2 training sessions a month. We'll see how that goes for me.
Took Icon to "dog appreciation day" at a park in Oak Ridge last week. While I realize he is only a pup, and is apt to let that come out in his behavior sometimes (pet store trip) he acted like he was on display. We covered the whole park which was VERY well attended by many people and lots of dogs. I was completely amazed by his behavior. He stayed on my left and at my knee everywhere we went, sat when I stopped, and walked with his head held up taking everything in as we went along. Several people commented on his good looks and manners. A couple asked if he was really only 7 months old. We went to the flea market Saturday morning, and he performed exactly the same way. It seems he knows people check him out and he wants to put on a show for them. He was perfect when a gentleman asked if he could pet him. No jumping up or moving around. Sat perfectly by my said while the guy rubbed him on the head.
I was so proud of him I called Jennifer on the way out and said "you're not going to believe how good he was".
I am attaching a couple more recent pics on this email. I think my photobucket account for him is "open" and it has 70+ pics and about 5 videos if you want to look.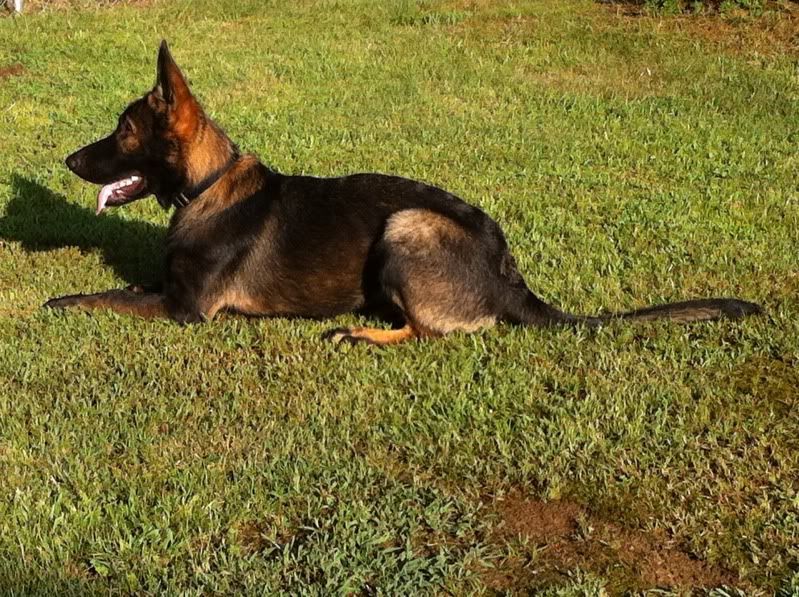 Thanks and I will see you soon. C


"Holly"

"Glock"
Dear Shari and Sherle,
I just wanted to give you a quick update on our new puppy – Glock. I could not be more thrilled with him. He appears to be brilliant- probably smarter than me! His ears are standing most of the time now, he's growing like a weed- 24 pounds at 11 weeks! I think he's beautiful. He makes me laugh much of the time I watch him. He's full of energy of course, but gets lots of exercise with Mya- the 60lb. 5 yr old Boxer I already had in the home. The 5 yr old poodle mix and 17 yr old Dachshund "tolerate" his boisterous playing, nipping at him when he gets too rough. The 5 yr old German Shepherd (female)- Freedom, tolerates him as well. She hasn't really warmed up to him as Mya has. As I told you before, she's quite docile. There hasn't been even 1 fight among the crew. Glock is almost 100 percent housebroken already- he's proven himself to be an extraordinary pet. Glock and I start organized training lessons this coming Monday- that should be a hoot! I'm sure he's going to try to chew on every other dog in the class! He's already been to Winder Animal Hospital to see Dr. Powers for his last set of shots. Of course, he checked with no health issues. He already reacts VERY well to "come, sit, no chew, stop, go potty, and no". He seems to be driven strongly by the desire to please me. I am so fortunate to be able to spend all day every day with him- as I'm not having to work at this time. He has been a blessing. I love him dearly. Thank you so much for carefully choosing him for me and arranging things so you could place a puppy that fit my needs with me so quickly. I couldn't be more pleased with your selection.
Amy D
"Isis"
Hi Sherle!
I just wanted to give you an update on Isis. She's been with us for 4 months now and is doing absolutely wonderful. She has been such an awesome addition to our home and she and our other dog, Ethyl (a basset hound) are as close as litter mates! Isis bonded really well with my husband, Mike, who came home from Afghanistan in June. He runs with her every evening and Isis looks forward to that all day long! Our friends who live just around the corner recently purchased a GSD and Isis enjoys playing with him as well.
Isis is current on her vaccinations and takes Frontline and Interceptor monthly. She is on Science Diet large breed puppy food.
My husband has received orders to move to Germany. He will be reporting in October, but the kiddos, puppies and I will be staying at Fort Campbell for a while. Housing isn't readily available and Army won't move us until Mike can sign for a suitable home. We are excited about the upcoming move and will keep you posted as we find out more when we'll be leaving the country.
If you have any other questions about Isis, please feel free to contact me. We are so lucky to have found her and grateful she is such a loving, family dog.
M
"Jessie"
Hey there!
Hope all is well with you. Jessie dog is an AWESOME girl…I can't tell you how many people stop to ask questions about her and tell me how beautiful she is. We were at Starbucks in Wisconsin Dells over the weekend and three separate people got out of their cars to admire her…..
She is a fearless girl. Likes running through tubes already (the kids have a little fabric crawl through thingy and she's does laps in and out of it). My concern is that she will jump over things in her way, and she has already mastered the stairs. She barrels up the stairs an down the stairs without a hesitation. I try very hard to slow her down….. Other than that, she is learning quick. She is very good at sit-stay. I already can walk a few feet away and wave her favorite toy in her face or drag it in front of her, all it takes is a few No's and stay and she won't go after it. Sit and down are pretty good too but haven't really gotten to the correction or testing stage with any of her commands yet. Thanks for a perfect pup!
M